A while back, I pointed out that Fedex gives priority to minority-owned businesses for the subcontracting. I wrote:
Fedex is keen on using only Diverse subcontractors. On its "Supplier Diversity" page, Fedex boasts…
$2.6 billion spent with women-owned and minority-owned companies in FY20.
Fedex partners with several POC advocacy organizations, including "National Minority Supplier Development Council," "TriState Minority Supplier Development Council," and "Initiative for a Competitive Inner City (ICIC)." In order to be a Fedex subcontractor, one must fill out an application, which asks whether your company is "minority-owned." This is a priority for Fedex.
Therefore, it should come as no surprise that three recent suspects, in the dumping of thousands of dollars of packages, are also non-whites. This is the inevitable result of Fedex's Diversity policies. From Newsweek:
Hundreds of Dumped Packages Lead to Arrests of 3rd-Party Amazon Drivers in Major Theft Ring
Three people, including two who are believed to be third-party Amazon drivers, were arrested after officers found thousands of dollars of stolen products.

Oklahoma County Sheriff's Office deputies were called to an area of Oklahoma City for a complaint about illegal dumping. Deputies found 600 empty Amazon packages, worth more than $15,000, and a receipt from a local store led them to a home with thousands of undelivered Amazon packages.

The packages, according to the sheriff's office, were being stored in almost every room and "filled the storm shelter." Oklahoma County Sheriff Tommie Johnson III categorized the operation as a "major Amazon theft ring" and said in a news conference that officers believe Cesar Yasnier Cerqueira Rojas was loading extra products onto the truck to take home to sell.

Rojas, Dinneris Matos Delgado and Maikel Perez Laurencio were arrested on the scene and charged with 15 felony counts of possession of stolen property and embezzlement. Rojas was working as a third-party driver for Amazon and using Delgado's truck, according to police. Laurencio reportedly was working as a third-party driver as well.

Both Rojas and Laurencio are undocumented immigrants, according to the sheriff's office. However, officers are still working to verify their identities and are not certain their identifications are authentic.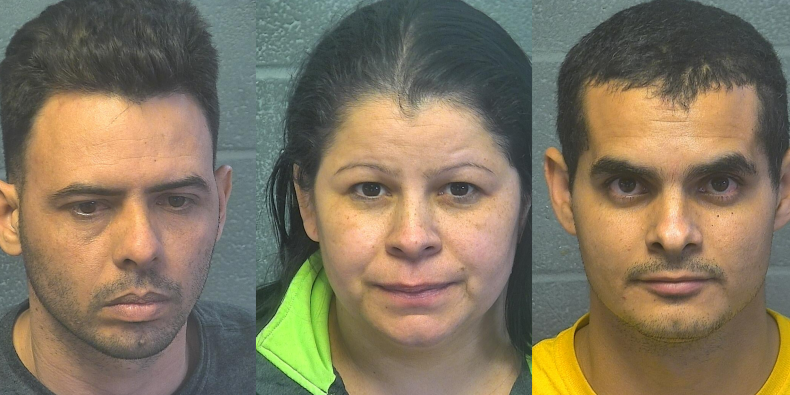 Diversity policies, such as the ones at Fedex, are chipping away at our civilization, compromising the quality of products and services, increasing our taxes (it costs money to investigate and prosecute such cases), promoting corruption and encouraging nepotism, which is endemic in third-world countries.